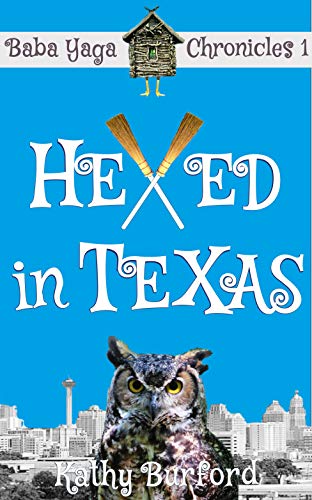 About Hexed in Texas by Kathy Burford
Russian witch Baba Yaga and the capitalist heir of Marie Laveau compete for a rare prize created by chaotic magic leaking from Alamo excavations. Book 1 of the Baba Yaga Chronicles: if you like lighthearted fantasy with offbeat humor, clever plot twists, and quirky characters, you'll love it: pure fun! Only 99 cents from April 29 through May 4.
Visit The Authors Website & Follow Them On Social Media
Follow the Author's Facebook Page
Learn More About The Author
I love fantasies, fairy tales, and mysteries with a touch of humor, including the works of Terry Pratchett, Diana Wynne Jones, and A. Lee Martinez. I have a master's degree in Russian and a PhD in comparative literature. The figure of Baba Yaga is intriguing: sometimes a villain and always intimidating but often a crotchety helper who observes her own peculiar set of rules. I like to imagine how she would interact with an increasingly technological world with little respect for tradition. After living for many years in Texas, my husband and I now live in Iowa.