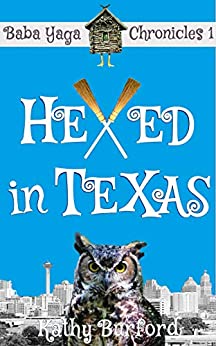 About Hexed in Texas: A Humorous Fantasy
Russian witch Baba Yaga steps through her magic mirror. The CEO of Laveau Pharmaceuticals makes more conventional travel plans. But why are they headed for Texas?
Once upon a time (a year ago, if you're a stickler for details), chaotic magic leaking from Alamo excavations triggered an improbable event, drawing the attention of two unlikely rivals in search of a rare prize.
The Russian witch Baba Yaga has been around since–even she can't remember when. She normally stays at home in her chicken-legged hut, grumpily aiding (or not) those who come to her for help.
M. C. Laveau, the CEO of Laveau Pharmaceuticals, merchandizes products that exploit the magic of her grandmother, Marie (yes, that Marie).
Unfortunate bystander Rachel Vargas is caught between the dueling rivals as the bizarre effects of the magic become increasingly drastic: something's gotta give.
Book 1 of the Baba Yaga Chronicles, in which she and her sisters confront modernity, with alarming and comical results. Pure fun!
Visit The Authors Website & Follow Them On Social Media
Visit The Author's Website.
Follow the Author's Facebook Page
Learn More About The Author
Kathy Burford has written three humorous fantasies. She likes quirky and humorous fiction, especially fantasies and mysteries. She studied Russian and comparative literature and works as a freelance editor for university presses. She has read a lot of folklore (see her fantasy ELSEWHEN) and played a lot of old-fashioned computer role-playing games (see THE WIZARD WARP). Her most recent work is HEXED IN TEXAS, in which the Russian witch Baba Yaga and the granddaughter of Marie Laveau compete for a rare item released by chaotic magic leaking from Alamo excavations.. After living in Texas for a long time, she and her husband now live in Iowa.