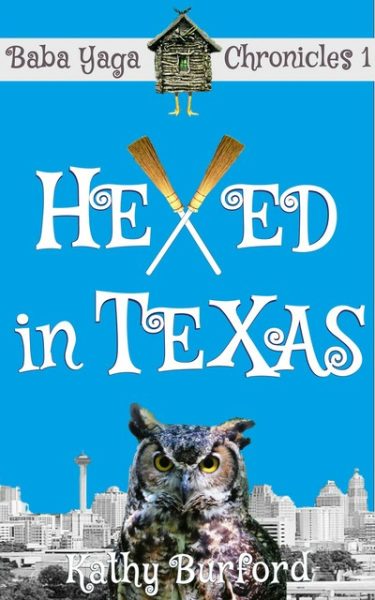 About Hexed in Texas by Kathy Burford
A Russian witch. The heir of a voodoo queen. A chaotic magic leak. What could possibly go wrong?
Baba Yaga steps through her magic mirror. The CEO of Laveau Pharmaceuticals makes more conventional travel plans. They are both headed for Texas, where the leaking magic has triggered a rare event, setting these two unlikely rivals on a collision course. Unfortunate bystander Rachel Vargas is caught in the middle as the bizarre magical effects become increasingly alarming. Pure fun!
"Lighthearted with a plot that is fun from beginning to end and characters that are charming . . . the perfect read."–Readers Favorite
Book 1 of the Baba Yaga Chronicles: light fantasy with offbeat humor, clever plot twists, and quirky characters.
Kindle Countdown: Only 99 cents from February 1 through February 7 (free with Kindle Unlimited or Prime membership).
Visit The Authors Website & Follow Them On Social Media
Follow the Author's Facebook Page
Learn More About The Author
I studied Russian and comparative literature and work as a freelance editor. I love fairy tales and humorous fantasies, such as the works of Terry Pratchett, Diana Wynne Jones, and A. Lee Martinez. I've always been intrigued by the figure of Baba Yaga: a scary villain but often a crotchety helper who plays by a peculiar set of rules. I like to imagine how Baba Yaga and her sisters would interact with an increasingly technological world with little respect for tradition. My husband and I formerly lived in Texas and now live in Iowa.